About Zehnder's Marketplace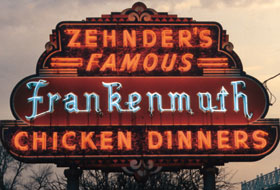 Zehnder's of Frankenmuth started as a small family restaurant known for its chicken dinners and famous neon sign and has grown over the years to become the world's largest family restaurant (with over 1,500 capacity seating), an award-winning bakery and marketplace, 18-hole championship golf course (The Fortress) and a 50,000 square foot hotel and waterpark (Zehnder's Splash Village) located in Frankenmuth, Michigan.
The History of Zehnder's Retail
Zehnder's 1948 addition to the north improved and added additional dining space, a gift shop, bar, restrooms, coat check, lobby and kitchen facilities.
Herman Zehnder proposed the idea of selling souvenirs in a new, small gift shop. Sensing an opportunity, the family charged Ermia "Bowsie" (pictured below and left) with the challenge. They couldn't have made a better choice. "Bowsie", as she was known by everyone, was a born salesperson.
Bowsie took the challenge and built that small gift shop into a multi-million dollar retail business at Zehnder's.
In the small town of Frankenmuth, it was not unusual that Main Street of Frankenmuth was impassable due to the spring flooding of the Cass River. By 1948, the governments of Frankenmuth Township and the Village of Frankenmuth agreed on a plan to build a dike at a cost of $25,205. Zehnder's agreed to pay one quarter of the cost. By 1961, the initial project was complete. The completion of the dike allowed for meaningful expansion of business within the floodplain including Zehnder's lower level where all of the retail shops are now located.
In 1984, Zehnder's invested over $1 million in bakery equipment and expanded the retail baked goods line and retail sales area. In 1986, Bakery Magazine recognized Zehnder's Bakery as the nations top retail bakery and continues to win awards today.
After a growing demand for Zehnder's quality bakery products, Zehnder's Online Marketplace was established in 2005 to reach households throughout the U.S. and bring Zehnder's home to our guests.
Now Zehnder's fans can enjoy Zehnder's homestyle specialties wherever they live!
For more information on Zehnder's history, visit our History page or visit our History Wall located in Zehnder's Restaurant, 730 S. Main St., Frankenmuth, MI, 48734.