Zehnder's Online Marketplace Shipping Information
Shipping Information:
Thank you for visiting Zehnder's of Frankenmuth. Feel free to call our mail order department at 800-863-7999 ext. 480, Monday through Friday from 9 am to 4 pm.
By default, we ship via UPS Ground. For UPS 2nd Day Air, please call us at 800-863-7999, ext. 480 for pricing and availability.
SHIPPING AND HANDLING (ground shipping only)
ZONE 1: Shipping Chart for Illinois, Indiana, Kentucky, Michigan, New York, Ohio, Pennsylvania, Virginia, West Virginia and Wisconsin.
$00.00-$25.00: $11.95
$25.01-$35.00: $12.95
$35.01-$45.00: $13.95
$45.01-$55.00: $14.95
$55.01-$65.00: $15.95
$65.01-$75.00: $16.95
$75.01-$85.00: $17.95
$85.01-$95.00: $18.95
$95.01-$105.00: $19.95
$105.01-$115.00: $20.95
For every $10 over $115.00 Add $1.00
Zone 2: All other locations in Continental U.S. not listed in Zone 1 Chart. For Hawaii and Alaska, an additional $8.00 will be added to base postage and handling.
$00.00-$25.00: $14.95
$25.01-$35.00: $15.95
$35.01-$45.00: $16.95
$45.01-$55.00: $17.95
$55.01-$65.00: $18.95
$65.01-$75.00: $19.95
$75.01-$85.00: $20.95
$85.01-$95.00: $21.95
$95.01-$105.00: $22.95
$105.01-$115.00: $23.95
For every $10 over $115.00 Add $1.00
Please allow 3 to 5 business days to process your order.
Additional Fees:
$4.00 for six or more loaves of breads
$4.00 for three or more strudels
$5.50 for Wine deliveries
$13.50 for Incorrect address
$30.00 Change of address while in transit
$3.00 for Ice Pack
**We reserve the right to adjust shipping rates for large oversized shipments.
Orders are shipped via UPS or U.S. Postal Service at our discretion. If you have a preference, please call or note it in the comment field during checkout.
UPS Air shipping available upon request. Please contact our Mail Order Department for rates.
WE ARE NOT ABLE TO SHIP FRESH BAKED PRODUCTS TO CANADIAN RESIDENTS.
**Note Canadian Residents please call for shipping rates. Rates vary depending on size and weight therefore shipping to Canada must be quoted.
We are not responsible for shipments that are delayed due to acts of nature
i.e.: tornados, snow storms, flooding, etc.
During hot humid weather season (mid-June through mid-September) we are ONLY able to ship breads, cheese spreads, meats, and chocolates to the 1 day in transit areas shown on the below map (Lower Michigan, Northern Indiana and Northern Ohio). All perishable shipments during this time will be charged an additional $3.00 for an ice pack to ensure freshness.
We do offer 2nd and Next day air shipping for these products please call for rates.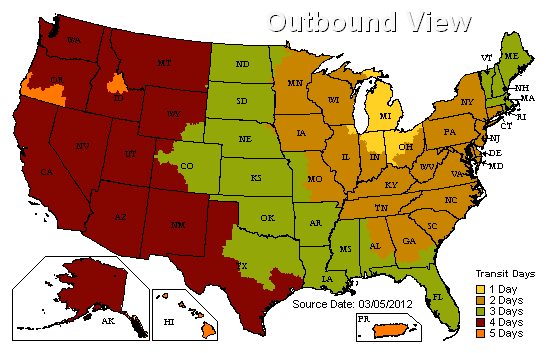 *The above map is estimated. Shipping arrival dates may vary.
Orders will be processed and shipped Monday through Wednesday for packages being shipped to areas that take 1 to 2 days to arrive. (Areas shaded in yellow, tan, and some green)
Orders will ONLY be processed and shipped on Monday if you are in an area that takes 3 or more days to ship to. (Areas shaded in rust-brown, orange and some green)
All orders MUST be placed by 1 p.m. on Friday in order to guarantee processing and shipping on the following Monday.
Coupons not valid on mail orders.
Zehnder's reserves the right to substitute similar products in the gift baskets if the featured product is not available.

RETURN POLICY – EVERY GUEST LEAVES SATISFIED.
We guarantee your complete satisfaction. Tell us if something's not right. If it's in our control, we will make it right. You have our name on it.
To contact a Zehnder's representative, please call us at (800) 863-7999, ext. 480 or email us at mailorder@zehnders.com. You can also send a message by clicking here. A representative will get back with you within 24 to 48 hours.
We accept the following payment methods:


Please note: Zehnder's is not responsible for lost or stolen goods. If a package does not arrive as expected, we suggest contacting the shipping company to track the shipment.
Store Information:
Zehnder's Marketplace
730 S. Main St.
Frankenmuth, MI 48734
800-863-7999, ext. 480